Description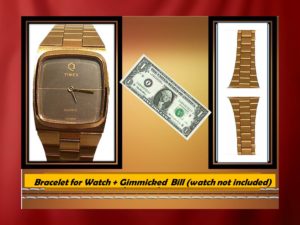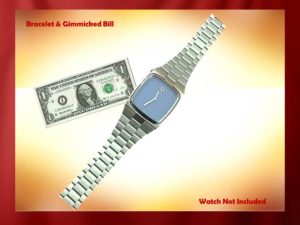 For performers who own the Timex "My Lousy Inheritance" Timepiece, this is a terrific add-on accessory that provides you an opportunity to structure your patter around a ladies wristwatch. A couple of thoughts come to mind:

1. It belongs to your girl friend, your wife, your "x", your grandmother — and you discovered that it can do something beyond your imagination. Let me demonstrate.

2. "My auntie was a psychic mind reader before she passed away. And I used to wonder what it'd be like to read other people's minds. Then I got a Facebook account, and now I'm over it. But, anyway, my auntie was obsessed with time and numbers. So, for my inheritance, she left me her treasured psychic Timex Wristwatch. It's taken a licking over the years but it still keeps on ticking. She was so good she could predict when an event would occur — give or take a few minutes. So, think of an hour … got it? Ok, tell me just the hour. Wow, that's just what I was thinking of. Now think of a minute between 20–and 40. Oh my goodness, that's exactly what I was thinking of as well. And if you don't believe it, pick up the watch and check it out.

3. Give or loan the watch to your girlfriend or wife and teach her how to perform miracles. With all the attention she will get, she will definitely be more forgiving and understanding why you sleep with a deck of cards in your hand, and have two room full of magic. As an expression of your thoughtfulness, she might even surprise you with something unexpected.

Product comes with a beautiful gold colored metal watchband that matches your Timex wristwatch. Watch band is adjustable to fit any woman's hand. Also included is a special dollar bill, gimmicked differently than the conventional $1 provided with the Timex wristwatch. This allows you or anyone to predict a time previously selected by a spectator.