Description
For a limited time, you get a BONUS 'Card Shark' accessory with PRO Deal 3.
Save an extra $22 bucks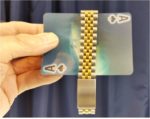 Links to All Products in Deal 3

Blown Away $1 Bill — Predict time with spectator holding watch or with watch on a table. Precision made. Examinable. A must-have prop!

The Mother of All PK Pens — A stylish functioning pen. An LED for misdirection. Deviously gimmicked to trigger your watch. You'll love it!

N52 Utility Kit— An assortment of powerful N52 mags + tips for use, such as making a gaffed $1. HIGHLY RECOMMENDED!

Armed Card — This is a jaw-dropping routine using a Bicycle card to 'arm' a watch. Incredible, memorable mentalism!

Psychic Lantern — For intimate settings, this novel effect can't be beat! Complete with patter & a precision made LED lantern.

Magnetic Pen Pro— We all love Sharpies. They appear to be so innocent. But this one is deadly. For ultimate deception!

Mini-Card Keychain — So novel. Dangle it in front of spectator's eyes. Watch them smile. You'll smile too, but for different reasons.

Gift Gear — Women love diamonds. Why not give one away? Use the ring box for an incredible psychic effect. Do it all!

Industrial Strength Quarter — If you do coins, you'll use this powerhouse quarter often to predict the time. It even bamboozles magicians.


Links to all 'PRO' Discounted Packages
PRO Deal #1 – Save $84
PRO Deal #2 – Save $96
PRO Deal #3 – Save $116
PRO Deal #4 – Save $147
<