Description
For a limited time, you get a BONUS 'Card Shark' accessory with PRO Deal 5.
Save an extra $22 bucks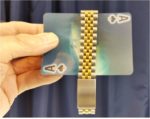 Links to All Products in Deal 5
Armed Mini-Deck — This deck is ARMED & LOADED. No need to embed an N52 PK. Perform instantly upon receipt. You'll love it!
The Master Card — This novel gimmick never fails to keep on thrilling and killing. Because you never touch the watch! Examinable.
N52 Utility Kit — An assortment of powerful N52 mags + tips for use, such as making a gaffed $1. HIGHLY RECOMMENDED!
Mental Power Bar — If you enjoy doing mentalism tongue-in-cheek, with your audience in uncontrollable laughter, read the full routine.
Gift Gear — Women love diamonds. Why not give one away? Why not use the ring box for an incredible psychic effect? Do it all!
Armed Memo Pad — This pad is also ARMED & LOADED. Perform instantly upon receipt. You'll use this every day!
Blown Away $1 Bill — Predict time with spectator holding watch or with watch on a table. Precision made. Examinable. A must-have prop!
The Mother of All PK Pens – A stylish functioning pen. An LED for misdirection. Deviously gimmicked to trigger a watch. Harness its power!
Blown Away Pen — BIC & Papermate pens are the most recognized brands in the world. A perfect weapon in your arsenal!
Armed Card — This is a jaw-dropping routine using a Bicycle card to 'arm' a watch. Incredible, memorable mentalism!
Magnetic Force Deck — The 'PK Force' is with you inside this deck of cards. It doesn't just kill, it tortures your mind first.
Venus Miracle Pen — Don't leave home without it. But don't worry, it can perform longer than 4 hrs! Hilarious entertainment.
Hot Box — This inside of this match box is crafted so incredibly that spectators can peer inside without seeing the 'N52'. Fantastic!
Psychic Lantern — For intimate settings, this novel effect can't be beat! Complete with patter & a precision made LED lantern.
Prediction Card Case — A devilishly simple but straight forward method of taking a p – – – at a selected time.
Magnetic Pen Pro — We all love Sharpies. They appear to be so innocent. But this one is deadly. For ultimate deception.
Light Fright — Great for seances or any psychic intimate setting. Will keep your audience totally engaged!
The "OMG" Bill — With this $1 you literally have total control at your fingertips. 'Stop/start' whenever you want. Unbelievable!
Links to all 'PRO' Discounted Packages