Description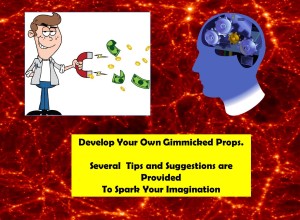 These magnets, 6 to a package, are the exact ones we use to gimmick the $1. They are perfect to use in a "My Lousy Inheritance" gimmick, such as the $1. It's smart to have an extra bill handy as an insurance policy in case yours gets misplaced or spent. Don't laugh. It happens!

Over the years we have been asked to provide these magnets together with illustrated step-by-step instructions to allow performers to make a bill in an emergency — like just before a performance. So, we are providing the magnets plus the technique that took us a while to perfect. We are also providing some ideas and thoughts on how these magnets can be used by you in other everyday objects. We hope these tips will be helpful and provide you a springboard to develop other unique triggering devices.

You'll also learn how to perform Blown Away with a borrowed bill of any denomination. Amazing stuff!